whitepaper
Mapping senhasegura solutions to the Essential Cybersecurity Controls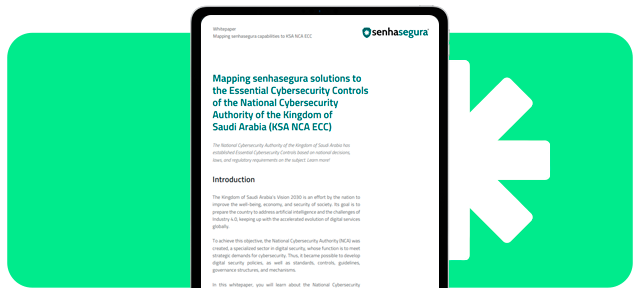 The Kingdom of Saudi Arabia's Vision 2030 is an effort by the nation to improve the well-being, economy, and security of society. Its goal is to prepare the country to address artificial intelligence and the challenges of Industry 4.0, keeping up with the accelerated evolution of digital services globally.
To achieve this objective, the National Cybersecurity Authority (NCA) was created, a specialized sector in digital security, whose function is to meet strategic demands for cybersecurity. Thus, it became possible to develop digital security policies, as well as standards, controls, guidelines, governance structures, and mechanisms.
In this whitepaper, you'll learn about the NCA ECC and how senhasegura solutions can be applied to it, assisting in compliance with these controls.