CYBERSECURITY
AWARENESS MONTH


2023
Train your team to combat threats with senhasegura's toolkit!

Human factors accounted for 74% of all breaches, including social engineering attacks, errors, and misuse, according to Verizon's 2023 Data Breach Investigations Report. Cybersecurity Awareness Month presents an opportunity for companies to train their employees on cybersecurity best practices. senhasegura has got you covered with our full training toolkit!
We know that cybersecurity teams are always busy. To help you step up your awareness campaign using the least time possible, senhasegura has created a comprehensive toolkit for you to distribute to your team with trainings and resources, including:
A folder with 10 cues to create a safe work environment, that can be shared printed or digitally;

A full presentation covering the main topics of cybersecurity awareness;

Wallpapers and meeting backgrounds to engage employees;

A social media post and banner;

Emails to run an internal communications campaign;

A cybersecurity checklist for employees to print and display as a reminder of best practices.
Why be part of the Cybersecurity Awareness Month?
Strengthen the weakest link
Your employees will be more educated in how to prevent and defend from the most common cyber threats.
Make your team's lives easier
With senhasegura's toolkit, you can run cybersecurity awareness campaigns easily and with customizable materials.
Prevent and detect attacks
When everyone in the company is educated on cyber threats and how to avoid them, it can make a substantial difference in preventing an incident from getting worse.
Ensure you're in compliance with data privacy laws and standards
Confirm that your company is in full compliance with data protection laws and adhere to international standards, i.e. NIST and ISO 27001.
Don't be caught unprepared!
We're here to help. Take advantage of this opportunity to promote and provide training to your team on best practices in data protection and cybersecurity.
Reinforce your security measures so you can reduce the risk of breaches and cyberattacks with potentially catastrophic consequences. Download our toolkit today to get started!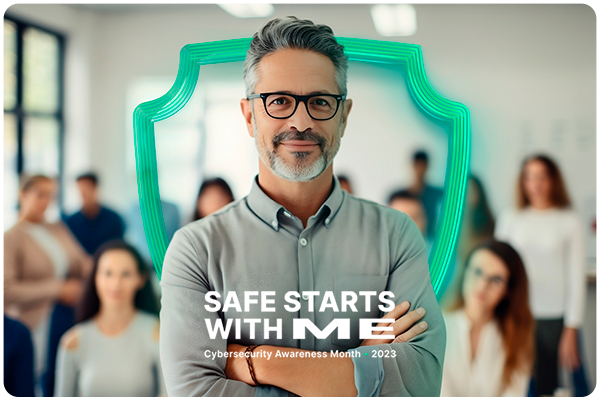 About

Senhasegura
Senhasegura, a globally recognized Brazilian cybersecurity company, specialized in cutting-edge technology for Privileged Access Management (PAM). Our expertise extends to assisting companies in combating data hijacking (ransomware) attacks, mitigating insider threats, addressing risky user behaviors, and securing both human-to-machine (H2M) and machine-to-machine (M2M) communications. With our comprehensive and cost-effective platform, we guarantee optimal protection for your organization's critical assets, accompanied by top-tier customer support.
Share this campaing on your LinkedIn page to help other cybersecurity professionals.